Emile Achard
1860-07-24
Verified data
Official name
Family
Achard
Given
Emile Charles
Gender
M
Birth
Date
1860-07-24 09:30
Date UTC
1860-07-24 09:20:40
Timezone offset
+00:09:24
Place
Paris
Country

France

Admin level 2
75
Admin level 3
9
Longitude
2.3488
Latitude
48.85341
Geonames ID
2988507
Identifiers
| | |
| --- | --- |
| Open Gauquelin Database | achard-emile-1860-07-24 |
| Gauquelin | A2-4 |
| Müller | M5-5 |
---
Birth certificate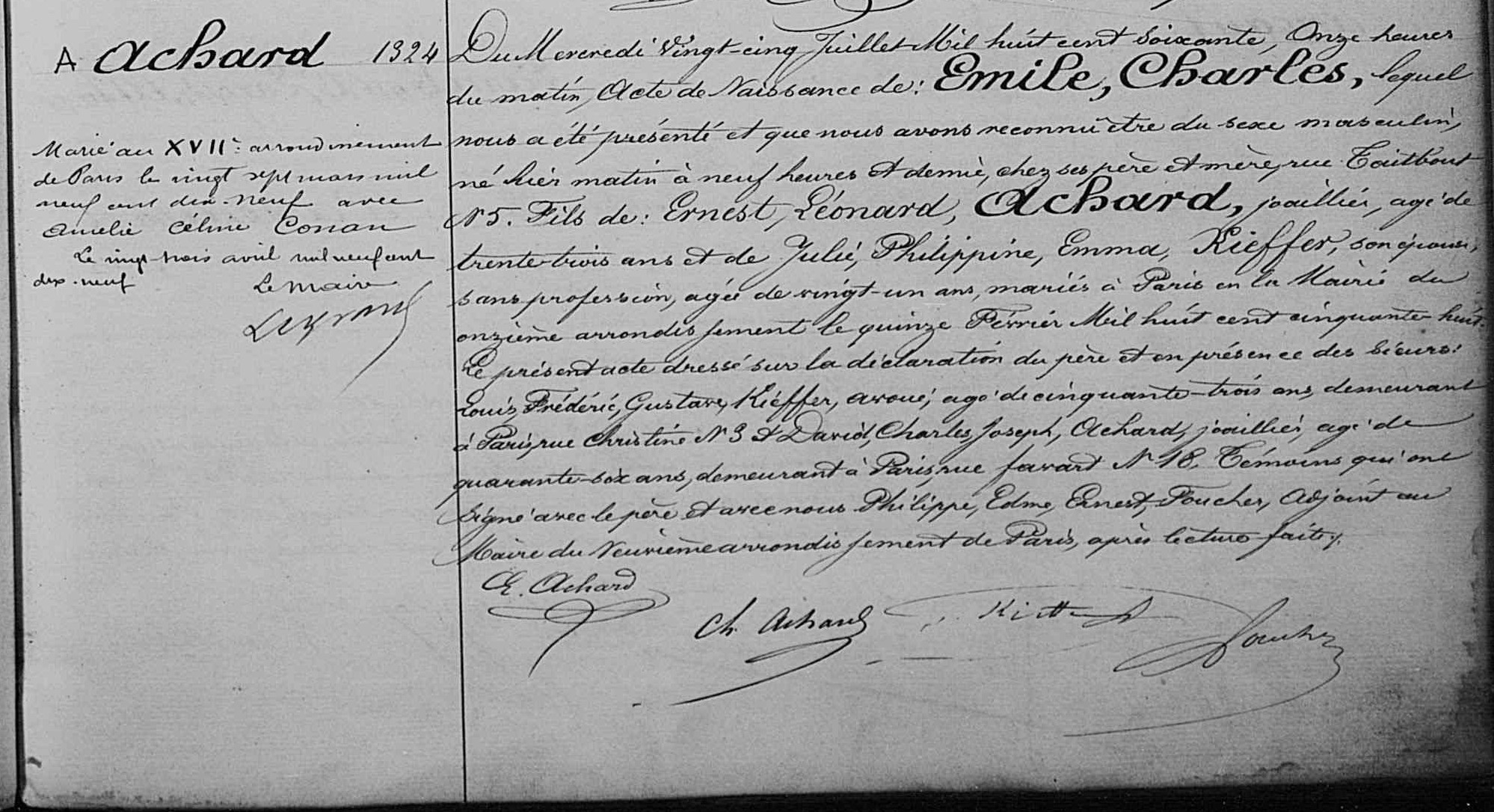 Transcription
| | |
| --- | --- |
| Official family name | Achard |
| Official given name | Emile Charles |
| Birth date | 1860-07-24 09:30 |
| Birth place | Paris |
Information source
| | |
| --- | --- |
| Type | Birth certificate |
| Name | 1860 , Naissances , 09 V4E 955 |
| Place | Paris , 75 (9) |
| Internet availability | Page 4 / 31 |
This person is part of physicians born in Paris that Arno Müller couldn't check in 1994 (see details on
tig12.github.io/g5
).
Comparison with birth certificate shows that Gauquelin birth time was correct.
Original name of the image: archives_AD075EC_V4E_00955_0097.JPG
History of this document
2019-12-18, Thierry Graff: Locate and download birth certificate
2023-01-29, Thierry Graff: Addition to opengauquelin.org
Successive commands issued with Gauquelin5 program to build this person, and corresponding retained values.
Command: gauq A2 tmp2db
| | |
| --- | --- |
| Information source | CURA5 file A2 |
| Execution date | 2023-08-20T14:43:11+02:00 |
Raw data:
| | |
| --- | --- |
| YEA | 1860 |
| MON | 7 |
| DAY | 24 |
| PRO | S |
| NUM | 4 |
| COU | F |
| H | 9 |
| MN | 20 |
| SEC | 40 |
| TZ | 0 |
| LAT | 48N50 |
| LON | 2E20 |
| COD | 75 |
| CITY | PARIS 9E |
New values:
{ "birth": { "date": "1860-07-24 09:30", "date-ut": "1860-07-24 09:20:40", "place": { "c2": "75", "c3": "9", "cy": "FR", "geoid": 2988507, "lat": 48.85341, "lg": 2.3488, "name": "Paris" }, "tzo": "+00:09:24" }, "ids-in-sources": { "a2": "4" }, "name": { "family": "Achard", "given": "Emile" }, "occus": [ "physician" ], "partial_ids": { "lerrcp": "A2-4" }, "trust": 5 }
---
Command: muller m5medics tmp2db
Raw data:
| | |
| --- | --- |
| NR | 5 |
| SAMPLE | GAUQ_NUR |
| GNR | SA24 |
| CODE | 4 |
| NAME | ACHARD (EMILE CHARLES). |
| GEBDATUM | 24.07.1860 |
| JAHR | 1860 |
| GEBZEIT | 09.30 |
| GEBORT | Paris (1ER) |
| LAENGE | 002 E 20 |
| BREITE | 48 N 50 |
| MODE | LMT |
| KORR | |
| ELECTDAT | 09.05.1911 |
| ELECTAGE | 50,8 |
| STBDATUM | 08.08.1944 |
| SONNE | 6 |
| MOND | 33 |
| VENUS | 7 |
| MARS | 25 |
| JUPITER | 6 |
| SATURN | 4 |
| SO_ | 1 |
| MO_ | 0 |
| VE_ | 0 |
| MA_ | 0 |
| JU_ | 1 |
| SA_ | 1 |
| PHAS_ | 36.200 |
| AUFAB | 10.80 |
| NIENMO | |
| NIENVE | |
| NIENMA | 0 |
| NIENJU | |
| NIENSA | 0 |
New values:
{ "birth": { "date": "1860-07-24 09:30", "place": { "name": "Paris" } }, "ids-in-sources": { "afd5": "5" }, "name": { "family": "Achard", "nobl": "", "official": { "given": "Emile Charles" } }, "occus": [ "physician" ], "sources": "afd5" }
---
Command: wiki bc add achard-emile-1860-07-24
| | |
| --- | --- |
| Information source | Birth certificate |
| Execution date | 2023-08-20T14:50:59+02:00 |
New values:
{ "birth": { "date": "1860-07-24 09:30", "place": { "c2": "75", "c3": "9", "cy": "FR", "name": "Paris" } }, "name": { "given": "Emile", "official": { "family": "Achard", "given": "Emile Charles" } }, "sex": "M" }
---